Watching the Ball Mid-Flight
Coaching is full of contradictions.  Play aggressive defense, but don't foul.  Make quick decisions, but don't turn the ball over.  Box out, but just go get the ball.  We are all guilty of it, and it will probably never change.
The reality is, we are trying to prepare players for an imperfect world and we are never going to get exactly what we want.  The perfect game/shot/possession will never happen.
Knowing this, most of my teaching (as much as I can control it) allows room for error.  I try to prepare players for the worst case scenario. If you are prepared for the harshest environment or situation possible, anything less stressful will seem easy by comparison.  What I don't want to have happen is to prepare a player for a relatively simple situation, and when something goes wrong their skills don't translate. I always try to keep in mind that whatever skill I am trying to prepare these players to use or situation I'm preparing them for, there is a (generally) very athletic, very determined human on the other end trying to make that skill or situation more difficult.
Recently I was having a discussion on twitter with a coach about whether players should look at the ball in mid-flight after shooting it.  Of course, the first thing we should point out is… many players do this already, and for a variety of reasons that we can't assume to know.  I, myself, would do it on occasion (not that I would ever suggest someone copy me for that reason alone).  The reason I would sneak a peek every once in a while, was that the shot in question didn't feel quite right leaving my hand. I knew that it was going to miss and I was quickly trying to figure out where to position myself to get a rebound.  I've had players tell me that they look on occasion to make sure the ball has cleared the hand of the defender that is closing out on them.  Larry Bird even stated that he would look at the ball in warm ups to see if the ball was rotating purely.
So it does happen, I won't argue that.  My real question is, "should we be encouraging it?"  Here is my thinking…
If you stay focused on your target throughout your shot, nothing bad can really happen.  You may execute the habit well or at worst, you sneak a peek a little early, as the ball is at its apex. The ball is is already well out of your hand and the look doesn't hurt anything.  But if a shooter were to be taught to look up at the ball in flight, that shooter runs the risk of overdoing the habit, looking a little early, and pulling their focus away from the target as the ball is leaving their hand.  Think it doesn't happen?  Here are two players that do.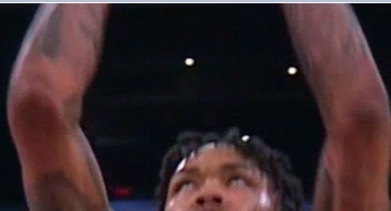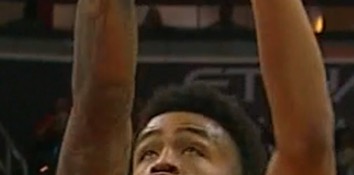 So as coaches, we are trying to prepare players to avoid potential pitfalls as much as we are trying to teach them the "correct" thing to do.  Do I mind if a player of mine takes a quick look at the ball in mid-air every once in a while?  No.  But I would hate it if I encouraged them to look up at the ball mid-flight and what they heard was "you should do that every time." I would never want an off-hand comment to result in a player developing a potentially detrimental habit.  The reality is, we can't coach every single moment, but we have to make sure that the coaching we do isn't contributing to bad habits.
This is similar to my feelings on dipping the ball (to gather for a shot).  Of course players at all levels dip the ball.  Even great shooters do, particularly on longer shots.  As coaches, we need to understand when it may be necessary (i.e. on longer shots requiring more power) but avoid language that implies that players should dip the ball on ALL shots.  There is a big difference between allowing a dip in reasonable situations, and encouraging a dip unilaterally.
Be aware of the way you present ideas to your players.  Are you allowing a habit that could easily slip into something detrimental, or are you preparing them to stay safe in all situations?