Getting Your Shooting Hand Wide
There are some important concepts in shooting that transcend age and level of play. From young players all the way up to the NBA players I coach, I am trying to get everyone to the same place when it comes to their shooting hand. Let me explain. It is my goal for every player to put their shooting hand in a position to do all the work. The guide hand should be exactly that: a guide. It shouldn't have to do any thing but guide the ball towards the hoop. All of the power and arc should be directed by the shooting hand.
Anytime I'm in a gym where young players are shooting the basketball, the struggle between shooting hand and guide hand is amplified.  Many of these young players either have a 60:40 relationship between their hands (60% of the power coming from the shooting hand and 40% from the guide hand) or they have a 50:50 two handed shot. Looking at them, I can't tell if they should be shooting with their left or their right hand.
The solutions for this problem? Grow bigger hands! Get stronger! Not exactly practical teaching points. These players have small hands which makes it difficult for them to balance and control the ball on their shooting hand. Another issue is that these kids never want to stay close to the hoop where they have a chance of creating some semblance of a lasting shooting form. "Steph and Klay are cool! They shoot threes! I want to shoot threes!"
So, you're in the gym, and these kids are rocketing two handed shots at the hoop. What do you do?
I want to come back to my point from the beginning. It is my goal for every player to put their shooting hand in a position to do all the work. A 100% shooting hand, 0% guide hand ratio of power is the goal. In order to do this, we have to make our shooting hand as big as possible across the bottom of the ball. I want my thumb to be as far away from my pinky as possible.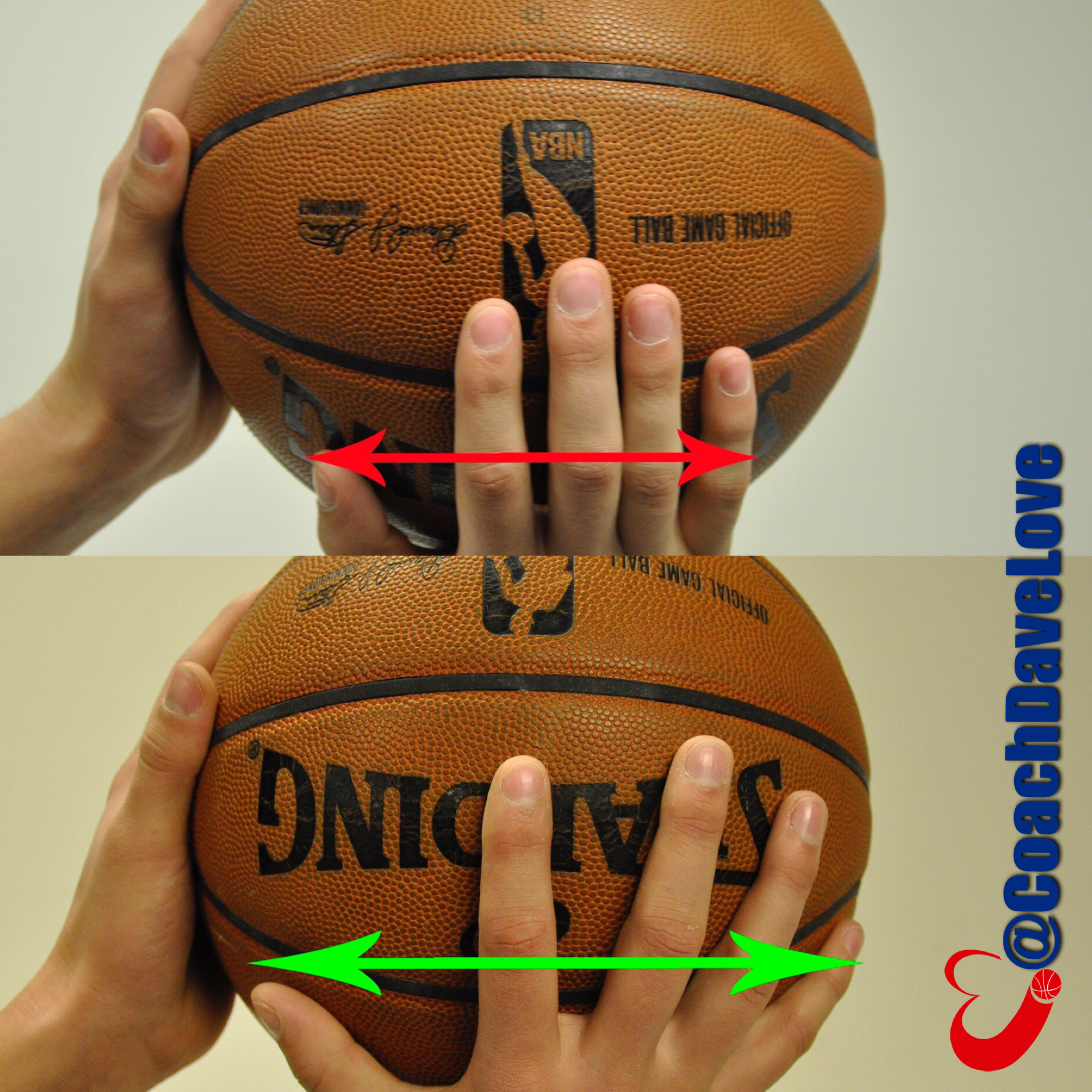 See, these kids have taken small hands and made them even smaller on the ball. With a close grip and fingers close together, there is no chance to balance or support the basketball. As these hands grow, we can stress this over time. The thumb should be in an "L" shape with your shooting hand, not a "J" shape. By making the "L" we've given the player the best possible chance of supporting the ball.
It's not just kids that have this problem either. Really experienced players can sometimes let their shooting hand get lazy on the ball. The thumb position should be an area of repetition and focus regardless of age.
Take your shooting hand of your phone or computer and put your thumb in the "J" shape and imagine holding a basketball in a shooting position. If you're right-handed, you're not supporting the left side of the basketball. If you do get a shot off, your non-shooting hand has to compensate and that's if you don't turnover or lose the ball because of a little contact.
Now, put your thumb in the "L" shape on the ball. Your thumb is wide and far from your pinky, and you've given your shooting hand the best chance at supporting the basketball. Now your guide hand can do just that and your shooting hand is doing all the work. This the key to a true one handed release.